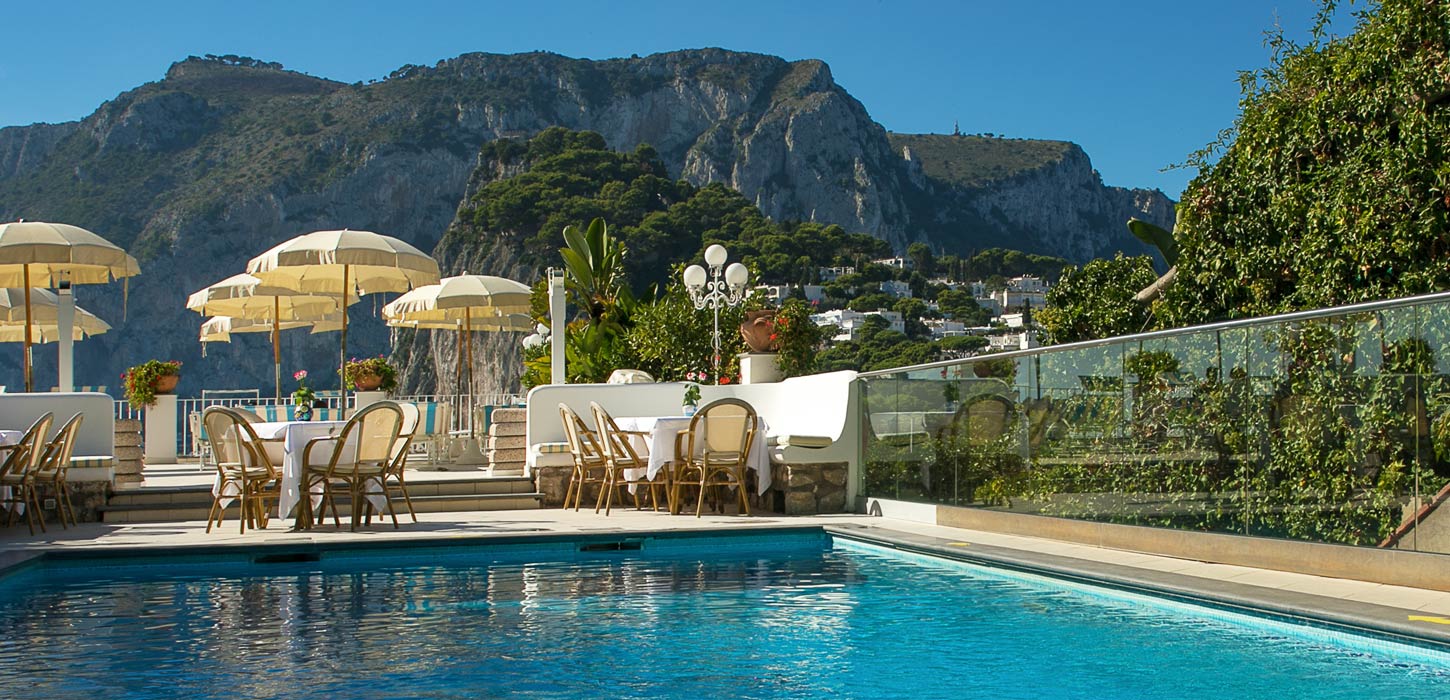 How do I get to Villa Brunella from the Naples airport or train station?

The fastest and easiest way is with an all-inclusive private transfer, which we can arrange for you when you reserve. Otherwise, all the arrival information you need is in our "Getting Here" guide: download the PDF!
Can Villa Brunella staff help me get my bags from the port to the hotel?

Just let us know what time your ferry to Capri arrives and we'll have a porter meet you at the pier to help you transport your bags to the hotel (EUR 15 fee per bag). The porter can also provide you tickets for the funicular up to the Piazzetta in the center of Capri town.
Do all the rooms at Villa Brunella have sea views?

Villa Brunella has a number of terraced levels, so most our rooms have a private terrace with a sea view. A few rooms have a private patio with a view over our manicured garden.

Is breakfast included in the room rate?

The room rate includes a light continental breakfast served from 7 -11 am. Upon request, we can provide an additional menu with a wider selection of dishes.
Is there an elevator to the rooms?

Yes, there are two elevators which connect the reception area to the pool and the rooms on the lower levels.

Is the hotel accessible for those with limited mobility?

Unfortunately, there are two short staircases with around a dozen steps each: one to reach the reception area and the other to the two elevators.
Is the pool always open?

Yes, our pool is open for guests for the entire season in which the hotel is open.

What are the pool hours?

The pool is open from 11 am to 7 pm.
Is the restaurant only open to hotel guests?

Our "Terrazza Brunella" restaurant is open to everyone, so even if you are a guest at Villa Brunella we recommend you reserve a table in advance!

What time is the restaurant open?

Terrazza Brunella is open for lunch from noon to 4:30 pm and dinner from 7 to 11:30 pm.
Booking and Seasonal Dates
How can I send my credit card details securely?

If you book through our site, your credit card information is handled with a secure 128-bit SSL encrypted system, which is also used when filling out our booking form.
When is the hotel open for the season?

Villa Brunella opens for the season each year at Easter and remains open through October.
Rooms & Suites
The rooms at Hotel Villa Brunella all face the sea from their private terraces, which serve as open-air living rooms where guests can relax and enjoy the breathtaking view.
The restaurant
Our restaurant, Terrazza Brunella, is considered one of the best on the island. Perfect for a romantic dinner.